Fisherman's Bastion, with its intricate architecture and panoramic views, is a renowned landmark in Budapest, Hungary. This enchanting structure has captured the hearts of locals and tourists alike, drawing them to its grandeur and historical significance. In this article, altadiscus will delve into the origins of Fisherman's Bastion, exploring its rich history, captivating design, and the legends that surround it.
Introduction
Nestled on the Buda Castle Hill, Fisherman's Bastion is a neo-Gothic terrace that stands as a testament to Budapest's architectural prowess. It offers breathtaking panoramic views of the city, overlooking the Danube River and the magnificent Hungarian Parliament Building.
The Historical Context
To understand the origins of Fisherman's Bastion, we must first delve into the historical context of Budapest. The city has a rich and complex history, influenced by various civilizations and empires throughout the centuries. The area where Fisherman's Bastion now stands was once a part of the old medieval town of Buda, which faced constant threats and attacks.
The Construction of Fisherman's Bastion
Fisherman's Bastion was built between 1895 and 1902 as a celebration of the thousand-year anniversary of Hungary. It was designed by the renowned Hungarian architect Frigyes Schulek. The bastion was constructed on the foundations of an old rampart, which had been part of the medieval city walls.
Architectural Design and Influences
The design of Fisherman's Bastion is heavily influenced by neo-Gothic and neo-Romanesque architectural styles. The bastion consists of seven towers, representing the seven Magyar tribes that settled in the Carpathian Basin in the 9th century. The intricate stone carvings, arches, and colonnades further enhance the architectural beauty of the structure.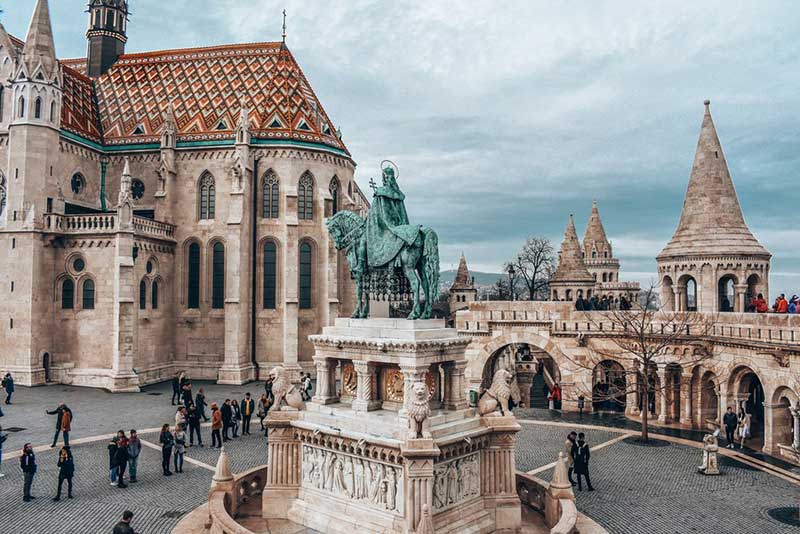 Legends and Symbolism
Fisherman's Bastion is not only admired for its architectural splendor but also for the legends and symbolism associated with it. According to one legend, the bastion was named after the guild of fishermen who defended this stretch of the city walls during the Middle Ages. The equestrian statue of King Stephen I of Hungary, located nearby, pays homage to the country's first king.
Restoration and Preservation Efforts
Over the years, Fisherman's Bastion has undergone several restoration and preservation efforts to maintain its original charm. In the 20th century, significant renovations were carried out to repair damages caused by World War II and subsequent conflicts. Today, the bastion stands as a marvel of architectural restoration and continues to captivate visitors from around the world.
Fisherman's Bastion Today
Fisherman's Bastion has become an iconic symbol of Budapest and a popular tourist destination. Its unique blend of architectural styles, historical significance, and mesmerizing views make it a must-visit attraction for anyone exploring the city. Visitors can explore the bastion's towers, stroll along its terraces, and indulge in the enchanting atmosphere it offers.
Conclusion
In conclusion, Fisherman's Bastion stands as a testament to Budapest's architectural heritage and historical significance. Its origins trace back to a celebration of Hungary's thousand-year anniversary, and its design pays homage to the nation's roots. Today, Fisherman's Bastion continues to captivate visitors with its breathtaking views and captivating charm.
FAQs
How much does it cost to visit Fisherman's Bastion?
Entry to Fisherman's Bastion is free of charge. However, there may be a fee to access certain areas within the bastion.
Can I take photographs at Fisherman's Bastion?
Yes, photography is allowed at Fisherman's Bastion. The stunning views and intricate architecture provide ample opportunities for capturing memorable moments.
Is Fisherman's Bastion accessible for individuals with mobility issues?
While there are some steps and inclines within the bastion, there are also accessible routes for individuals with mobility issues. Elevators and ramps are available to ensure everyone can enjoy the beauty of Fisherman's Bastion.
Are there any guided tours available at Fisherman's Bastion?
Yes, guided tours are available for visitors who wish to learn more about the history and significance of Fisherman's Bastion. These tours provide valuable insights into the architectural details and the legends surrounding the bastion.
What are the best times to visit Fisherman's Bastion?
Early morning or late afternoon are ideal times to visit Fisherman's Bastion. These quieter periods offer a more peaceful experience, allowing visitors to fully immerse themselves in the beauty of the surroundings.