Dobos Torte is a delicious Hungarian dessert that has a rich history and continues to delight dessert lovers around the world. In this article, altadiscus will explore the origins of Dobos Torte, its traditional recipe, and its enduring popularity. From its creation by the legendary Hungarian pastry chef József C. Dobos to its present-day variations, this article will take you on a journey through the captivating story of Dobos Torte.
The Birth of Dobos Torte
The story of Dobos Torte begins in the 19th century, in the city of Budapest, Hungary. It was during this time that the Hungarian culinary scene was undergoing a transformation, with new and innovative dishes being created. József C. Dobos, a renowned pastry chef, sought to revolutionize the world of desserts with his own unique creation.
József C. Dobos: The Master Pastry Chef
József C. Dobos was an extraordinary pastry chef with a passion for creating exquisite desserts. Born in 1847, he honed his skills in some of the finest pastry shops of his time. In 1885, after years of experimenting and perfecting his recipe, Dobos unveiled his masterpiece to the world—the Dobos Torte.
The Composition of Dobos Torte
Dobos Torte is a layered cake that consists of several components carefully assembled to create a symphony of flavors and textures. The traditional recipe includes layers of sponge cake, chocolate buttercream, and caramel. The cake is then topped with a hard caramel layer that adds a delightful crunch to every bite.
The Unique Dobos Torte Layers
Each layer of Dobos Torte serves a distinct purpose and contributes to its overall appeal. The sponge cake layers provide a light and airy foundation, while the chocolate buttercream adds richness and indulgence. The caramel layer not only adds a delightful crunch but also acts as a protective shield, keeping the cake moist and fresh.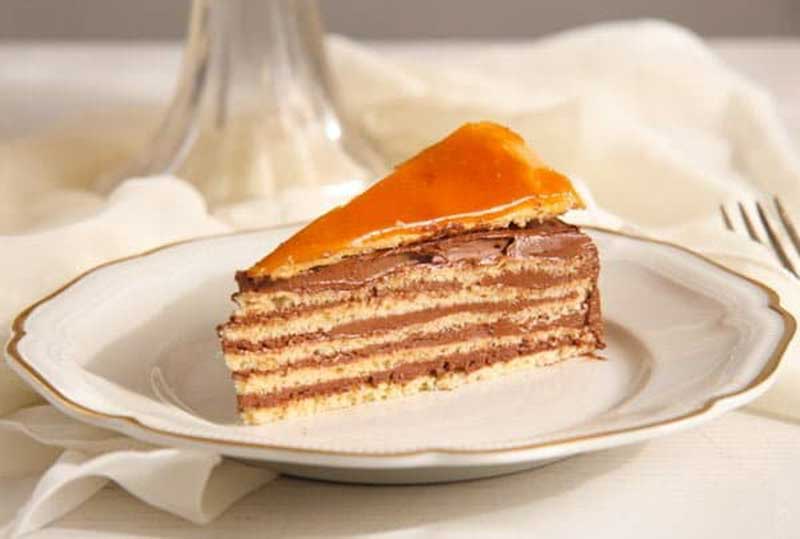 The Unveiling of the Torte
When Dobos first introduced his creation, it caused quite a sensation. The cake's unique combination of flavors and its stunning appearance made it an instant hit among the Hungarian elite. Dobos Torte quickly became a symbol of elegance and sophistication, gracing the tables of aristocrats and royal households.
Dobos Torte's Rapid Rise in Popularity
As news of Dobos Torte spread beyond Hungary, its popularity skyrocketed. The cake gained international recognition and became a sought-after delicacy in Europe and beyond. It was showcased at various international exhibitions, where it garnered accolades and further cemented its reputation as a culinary masterpiece.
Dobos Torte Today: Variations and Adaptations
In the modern era, Dobos Torte continues to captivate dessert enthusiasts worldwide. While the traditional recipe remains cherished, innovative bakers have put their own spin on the classic dessert. Variations featuring different fillings, such as fruit preserves or flavored creams, have emerged, offering new and exciting flavor profiles for enthusiasts to explore.
The Perfect Slice of History on Your Plate
When you indulge in a slice of Dobos Torte today, you are savoring not only a delectable dessert but also a slice of history. The cake's enduring popularity is a testament to its timeless appeal and the skill and artistry of its creator, József C. Dobos. So, the next time you take a bite of this heavenly treat, remember the rich history that brought it to your plate.
Conclusion
Dobos Torte is a dessert with a remarkable history and an exquisite taste. From its humble beginnings in Budapest to its global recognition, this layered cake has stood the test of time. Its unique composition, rich flavors, and elegant presentation make it a beloved treat for dessert lovers worldwide. Whether enjoyed in its traditional form or through modern variations, Dobos Torte continues to enchant and delight.
FAQs
Can I make Dobos Torte at home?
Absolutely! While it requires some skill and patience, you can recreate the magic of Dobos Torte in your own kitchen. There are numerous recipes available online to guide you through the process.
What makes Dobos Torte different from other cakes?
Dobos Torte stands out for its distinctive layers, including sponge cake, chocolate buttercream, and a crunchy caramel topping. Its unique combination of textures and flavors sets it apart from other cakes.
Is Dobos Torte only popular in Hungary?
While Dobos Torte originated in Hungary, it gained popularity worldwide and is now enjoyed in many countries. Its reputation as a delectable dessert has transcended borders.
Can I freeze Dobos Torte?
It is not recommended to freeze Dobos Torte, as the layers and caramel topping may be affected by the freezing process. It is best enjoyed fresh or stored in the refrigerator for a short period.
Are there any vegan or gluten-free versions of Dobos Torte?
Yes, there are vegan and gluten-free adaptations of Dobos Torte available. These versions use alternative ingredients to accommodate specific dietary preferences or restrictions.