Mala Tang, a popular Chinese dish, has a rich history that dates back centuries. altadiscus explores the origins, flavors, cooking techniques, health benefits, cultural significance, and modern-day popularity of Mala Tang. So grab a seat, prepare your taste buds, and let's uncover the fascinating journey of Mala Tang.
Introduction
Mala Tang, which translates to "numbing spicy soup," is a beloved Chinese dish renowned for its fiery flavor and mouth-numbing sensation. This iconic dish combines the aromatic and spicy elements of Sichuan cuisine with the communal dining experience.
What is Mala Tang?
Mala Tang is a type of hot pot dish that consists of a flavorful broth filled with an assortment of fresh ingredients. The dish typically includes thinly sliced meats, vegetables, tofu, mushrooms, and various types of noodles. What sets Mala Tang apart is the potent combination of Sichuan peppercorns, chili peppers, and other spices that lend the dish its characteristic numbing and spicy taste.
Origins of Mala Tang
Early origins in China
Mala Tang originated in the city of Chongqing in southwestern China during the late Ming Dynasty. It was initially created as a street food snack enjoyed by laborers working along the banks of the Yangtze River. The dish gained popularity due to its affordability, convenience, and satisfying flavors.
Regional variations
Over time, Mala Tang spread to different regions of China, leading to the development of unique regional variations. For example, the Chongqing style is known for its red color and intense spiciness, while the Chengdu style features a milder broth and emphasizes the numbing sensation.
The Mala Tang Experience
Ingredients and flavors
Mala Tang offers a wide range of ingredients that cater to different tastes and dietary preferences. From succulent slices of beef and lamb to fresh seafood, leafy greens, and a variety of mushrooms, there is something to please every palate. The spice blend, consisting of Sichuan peppercorns, dried chili peppers, and other aromatic spices, infuses the broth with a complex and bold flavor profile.
Cooking and preparation
The preparation of Mala Tang involves simmering the ingredients in a communal pot filled with the spicy broth. Diners can customize their Mala Tang by choosing the ingredients they desire and adjusting the spice level according to their preference. The communal aspect of the dish encourages social interaction and fosters a sense of togetherness.
Dining etiquette
When enjoying Mala Tang, there are a few dining etiquettes to keep in mind. It is customary to use chopsticks to pick up the ingredients from the simmering pot and place them in your personal bowl. The shared broth is sipped directly from the ladle or poured into a smaller bowl for drinking. Remember to pace yourself as the spice level can be intense for newcomers.
Mala Tang's Popularity and Global Spread
Rise in popularity
In recent years, Mala Tang has experienced a surge in popularity both within China and globally. Its unique blend of bold flavors, the thrill of the numbing sensation, and the communal dining experience have captivated the taste buds of people worldwide. Mala Tang has become a go-to choice for spice enthusiasts and food adventurers.
International adaptations
Mala Tang's popularity has led to international adaptations of the dish. Various countries have embraced the concept of Mala Tang and introduced their own versions with local ingredients and flavors. These adaptations cater to the preferences and spice tolerances of different regions while retaining the essence of the original dish.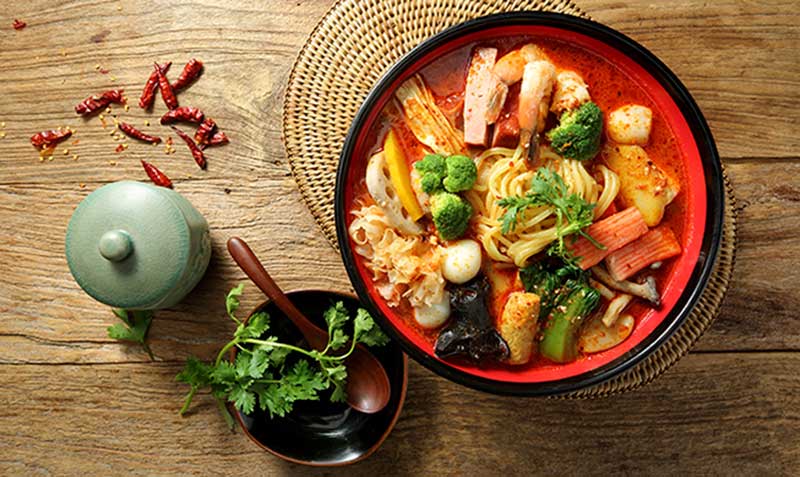 Health Benefits of Mala Tang
Spices and their medicinal properties
The spices used in Mala Tang, such as Sichuan peppercorns and chili peppers, possess numerous health benefits. Sichuan peppercorns have been used in traditional Chinese medicine for their antibacterial and anti-inflammatory properties. Chili peppers are rich in capsaicin, which is known for its metabolism-boosting effects and potential pain relief.
Digestive benefits
Mala Tang's ingredients, particularly the aromatic spices, are believed to aid digestion. The combination of Sichuan peppercorns and chili peppers can stimulate the digestive system and promote better nutrient absorption. Additionally, the abundance of fresh vegetables and mushrooms provides essential vitamins and minerals.
Capsaicin and its effects
Capsaicin, the compound responsible for the spicy sensation in Mala Tang, triggers the release of endorphins in the brain, creating a sense of pleasure and well-being. It can also help with clearing nasal congestion and providing temporary relief from minor aches and pains.
Cultural Significance of Mala Tang
Social bonding and communal dining
Mala Tang holds a special place in Chinese culture as a dish that brings people together. The communal aspect of sharing a simmering pot of Mala Tang encourages conversations, strengthens relationships, and fosters a sense of community. It is a popular choice for gatherings with family and friends, as well as festive occasions.
Festivals and celebrations
Mala Tang has become synonymous with certain Chinese festivals, such as the Lunar New Year and the Dragon Boat Festival. During these celebrations, families and friends gather around a table filled with a steaming pot of Mala Tang, symbolizing abundance, prosperity, and unity.
Mala Tang in Modern Times
Popular Mala Tang chains and restaurants
With its widespread popularity, Mala Tang has given rise to numerous specialized restaurants and chains dedicated to serving this beloved dish. These establishments offer a wide selection of ingredients, spice levels, and dining experiences to cater to diverse tastes and preferences.
Online delivery services
In the digital age, Mala Tang is just a few clicks away. Many Mala Tang restaurants have embraced online delivery services, allowing customers to enjoy the dish in the comfort of their homes. This convenience has further contributed to the dish's popularity and accessibility.
Conclusion
Unveiling the history of Mala Tang reveals a culinary journey rich in flavors, traditions, and cultural significance. From its humble origins in Chongqing to its global popularity, Mala Tang continues to captivate the hearts and taste buds of food enthusiasts. So next time you're craving an adventure for your palate, indulge in the tantalizing and numbing experience of Mala Tang.
FAQs
Is Mala Tang spicy?
Yes, Mala Tang is known for its spiciness. The combination of Sichuan peppercorns and chili peppers creates a fiery flavor profile that can range from mildly spicy to extremely hot. However, the spice level can often be customized to suit individual preferences.
Can I customize the spice level?
Absolutely! One of the joys of Mala Tang is the ability to tailor the spice level to your liking. When ordering or cooking Mala Tang, you can request for a milder or hotter broth based on your tolerance for spiciness.
Are there vegetarian options for Mala Tang?
Yes, there are plenty of vegetarian options available for Mala Tang. You can enjoy a delightful variety of fresh vegetables, tofu, mushrooms, and noodles in a vegetarian Mala Tang. Just ensure that the broth and ingredients you choose are vegetarian-friendly.
How can I make Mala Tang at home?
To make Mala Tang at home, you will need a flavorful broth infused with Sichuan peppercorns, chili peppers, and other spices. Simmer your choice of ingredients, such as thinly sliced meats, vegetables, and noodles, in the broth until cooked. Adjust the spice level according to your preference, and enjoy the communal dining experience with family and friends.
Is Mala Tang suitable for people with dietary restrictions?
Mala Tang offers a wide variety of ingredients, making it adaptable to different dietary restrictions. You can choose ingredients that align with your dietary needs, such as opting for vegetarian or gluten-free options. However, it's always advisable to check with the restaurant or carefully read the ingredient labels if you have specific dietary requirements or allergies.