Lángos is a traditional Hungarian street food that has gained popularity worldwide. This deep-fried flatbread is crispy on the outside and soft on the inside, making it a delicious treat for any time of the day. In this article, altadiscus will provide you with an authentic Lángos recipe, guiding you through each step to create this mouthwatering delight in your own kitchen.
Introduction to Lángos
Lángos is a Hungarian specialty that has become a popular street food across the globe. Traditionally, it is made from a simple dough that is deep-fried until golden and crispy. Lángos can be served plain or topped with various delicious ingredients, making it a versatile dish suitable for any occasion.
Ingredients
To make authentic Lángos, you will need the following ingredients:
2 cups all-purpose flour
1 teaspoon instant yeast
1 teaspoon salt
1 cup lukewarm water
Oil for frying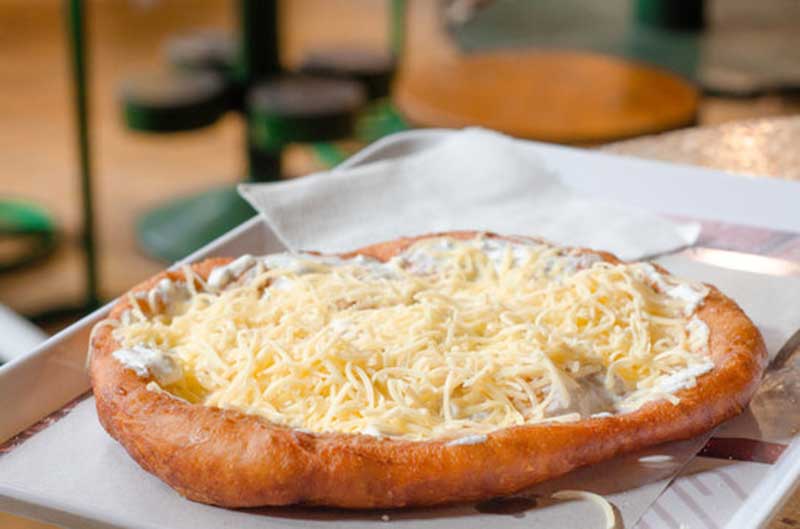 Step 1: Preparing the Dough
In a large mixing bowl, combine the all-purpose flour, instant yeast, and salt. Gradually add the lukewarm water while stirring the mixture with a wooden spoon or your hands. Continue mixing until a smooth and elastic dough forms.
Step 2: Letting the Dough Rise
Cover the bowl with a clean kitchen towel or plastic wrap and let the dough rest in a warm place for about 1 hour. This allows the yeast to activate and the dough to rise and become airy.
Step 3: Shaping the Lángos
Once the dough has doubled in size, punch it down to release any air bubbles. Transfer the dough onto a floured surface and knead it for a few minutes. Divide the dough into small portions and shape them into round balls.
Using a rolling pin, flatten each ball into a circular disc, about 1/4 inch thick. Make sure to dust the surface and rolling pin with flour to prevent sticking.
Step 4: Frying the Lángos
Heat oil in a deep pan or skillet over medium-high heat. Carefully place the flattened dough discs into the hot oil, one at a time. Fry each side until it turns golden brown and puffs up. This should take about 2-3 minutes per side.
Once cooked, remove the Lángos from the oil using a slotted spoon and transfer them to a paper towel-lined plate to drain excess oil.
Step 5: Toppings and Serving Suggestions
Now comes the fun part—topping and serving your freshly fried Lángos! Traditionally, Lángos is served with sour cream and grated cheese. However, you can get creative with your toppings. Here are some popular options:
Garlic sauce
Chopped fresh herbs (such as parsley or dill)
Crispy bacon
Sliced tomatoes
Pickles
Arugula or lettuce
Feel free to mix and match toppings based on your preferences. Serve the Lángos while they are still warm and enjoy their irresistible flavors and textures.
Conclusion
In conclusion, making authentic Lángos at home is a delightful experience that allows you to enjoy this Hungarian street food whenever you crave it. By following the simple steps outlined in this recipe, you can create crispy and delicious Lángos that will impress your family and friends.
FAQs
Is Lángos a sweet or savory dish?
Lángos is typically a savory dish, but it can be enjoyed with sweet toppings as well.
Can I use whole wheat flour instead of all-purpose flour?
Yes, you can substitute all-purpose flour with whole wheat flour for a healthier alternative.
How long can I store Lángos?
Lángos is best enjoyed fresh, but you can store leftovers in an airtight container for up to 2 days. Reheat them in the oven or toaster for crispiness.
Can I freeze Lángos dough?
Yes, you can freeze Lángos dough. After shaping it into balls, place them on a baking sheet lined with parchment paper, and freeze. Once frozen, transfer the dough balls to a freezer bag. Thaw them in the refrigerator before frying.
Can I make Lángos without yeast?
While yeast provides the characteristic texture of Lángos, you can make a yeast-free version using baking powder as a leavening agent. The texture may differ slightly, but it will still be delicious.