Food poisoning is a widespread issue that affects countless individuals every year. From mild discomfort to severe illness, food poisoning can range in severity. It occurs when you consume contaminated food or beverages that contain harmful bacteria, viruses, parasites, or chemicals. Understanding the common causes of food poisoning is crucial for preventing its occurrence and ensuring the safety of the food you consume altadiscus.
Bacterial Contaminants
Common Types of Bacteria
Bacteria like Salmonella, E. coli, and Campylobacter are frequent culprits behind food poisoning. These microorganisms can thrive in various foods, especially if not cooked or stored properly.
Symptoms and Effects
Consuming food contaminated with these bacteria can lead to symptoms such as nausea, vomiting, diarrhea, abdominal pain, and fever. In severe cases, they can even result in kidney failure or other life-threatening conditions.
Prevention Tips
To prevent bacterial contamination, ensure thorough cooking of meat, poultry, and eggs. Wash your hands and kitchen surfaces frequently, and separate raw foods from ready-to-eat items to avoid cross-contamination.
Viral Culprits
Notable Viruses
Viruses such as Norovirus and Hepatitis A can spread through contaminated food and water. These viruses are highly contagious and can cause rapid outbreaks.
Impact on Health
The symptoms of viral food poisoning include vomiting, diarrhea, fever, and fatigue. While these symptoms are usually not life-threatening, they can be particularly dangerous for vulnerable populations.
How to Protect Yourself
Frequent handwashing, especially before preparing or consuming food, can help prevent the spread of viral infections. Avoid sharing utensils or personal items with infected individuals.
Parasitic Infections
Types of Parasites
Parasites like Giardia and Cryptosporidium can contaminate food and water sources. These microscopic organisms can survive for extended periods and cause prolonged illness.
Health Consequences
Parasitic food poisoning can lead to symptoms like watery diarrhea, stomach cramps, and weight loss. In severe cases, complications can arise, affecting the digestive and immune systems.
Safe Food Handling Practices
Washing fruits and vegetables thoroughly before consumption and avoiding untreated water sources can significantly reduce the risk of parasitic infections.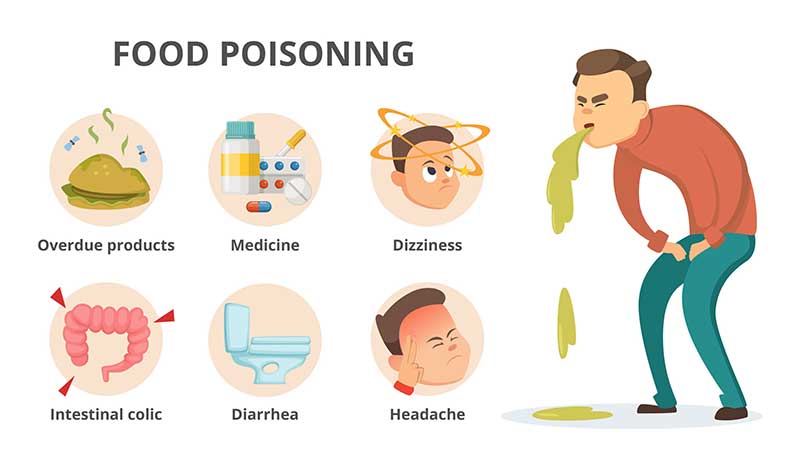 Chemical Toxins
Hazardous Substances
Chemicals like pesticides, heavy metals, and additives can find their way into the food supply chain. Consuming foods with high levels of these toxins can lead to acute or chronic health issues.
Signs of Chemical Contamination
Chemical poisoning can manifest as a range of symptoms, including nausea, dizziness, headache, and even neurological problems.
Minimizing Chemical Exposure
Opt for organic produce and be cautious when using pesticides. Additionally, ensure food containers and packaging are food-safe to prevent chemical leaching.
Cross-Contamination Risks
What is Cross-Contamination?
Cross-contamination occurs when pathogens from raw foods are transferred to ready-to-eat items, increasing the risk of food poisoning.
Preventing Cross-Contamination
To prevent cross-contamination, use separate cutting boards and utensils for raw and cooked foods. Wash your hands, surfaces, and utensils thoroughly between tasks.
Inadequate Cooking and Storage
The Importance of Proper Cooking
Undercooked food can harbor harmful microorganisms. Ensuring food reaches the recommended internal temperature is vital to kill potential pathogens.
Safe Storage Guidelines
Refrigerate perishable foods promptly and adhere to storage recommendations to prevent the growth of bacteria and spoilage.
Unsanitary Food Handling
Impact of Poor Hygiene
Improper hygiene during food preparation can introduce pathogens into the food, leading to contamination.
Practicing Good Hygiene
Regularly wash your hands, clean kitchen surfaces, and use gloves when necessary. Avoid touching your face while cooking to prevent the spread of germs.
Commonly Affected Foods
High-Risk Foods
Certain foods, such as raw eggs, raw meat, unpasteurized dairy, and seafood, pose a higher risk of contamination.
Handling and Cooking Recommendations
Cook these foods thoroughly to kill off potential pathogens. Use separate utensils and cutting boards for these items to avoid cross-contamination.
Symptoms and Recognizing Food Poisoning
Typical Symptoms
Recognizing the symptoms of food poisoning, such as nausea, vomiting, diarrhea, and stomach cramps, can help you seek prompt treatment.
Seeking Medical Attention
While most cases of food poisoning resolve on their own, severe symptoms or those affecting vulnerable individuals require medical attention.
Immediate Steps After Consumption
Staying Hydrated
If afflicted by food poisoning, it's essential to stay hydrated to counteract fluid loss caused by vomiting and diarrhea.
Rest and Recovery
Resting and allowing your body to recover is crucial for a swift recuperation from food poisoning.
When to Seek Medical Help
Severe Symptoms
Persistent symptoms like high fever, bloody stools, or dehydration warrant a visit to a healthcare professional.
Medical Assistance
Medical professionals can provide necessary treatments, such as rehydration therapy and medication, to alleviate severe symptoms.
Preventing Food Poisoning at Home
Cleaning and Disinfecting
Maintaining a clean kitchen environment and regularly disinfecting surfaces can prevent the spread of contaminants.
Smart Grocery Shopping
Choose reputable sources for your groceries and examine food packaging for any signs of damage or tampering.
Food Safety When Dining Out
Restaurant Considerations
Select restaurants with a reputation for good hygiene practices and proper food handling.
Asking the Right Questions
When dining out, don't hesitate to ask about food sourcing, preparation methods, and the restaurant's adherence to safety standards.
Conclusion
In conclusion, understanding the common causes of food poisoning is vital for maintaining good health and well-being. By being aware of the various sources of contamination and practicing proper food handling, cooking, and hygiene, you can significantly reduce your risk of falling victim to foodborne illnesses. Remember that prevention is key, and the steps you take in your kitchen or while dining out can make a significant difference in your safety.
FAQs
What is food poisoning?
Food poisoning is an illness caused by consuming contaminated food or beverages.
What are the common symptoms of food poisoning?
Typical symptoms include nausea, vomiting, diarrhea, stomach cramps, and fever.
How can I prevent food poisoning at home?
Practicing good hygiene, proper food storage, and thorough cooking can help prevent food poisoning.
Can food poisoning be severe?
Yes, severe cases of food poisoning can lead to complications and require medical attention.
Is dining out safe to avoid food poisoning?
While dining out, choosing reputable restaurants and inquiring about food safety practices can reduce the risk of food poisoning.